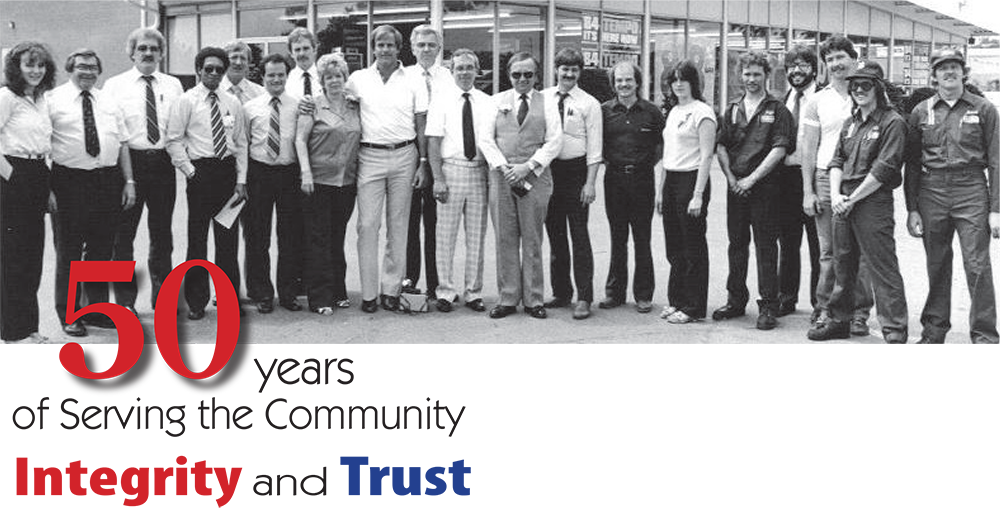 Those are two words which seldom receive the kind of attention they deserve in the world of business.
Lake Living Magazine exists to embrace, promote and celebrate area businesses that have earned integrity and the trust of their customers. And there is no business more worthy of recognition in that regard than Atchinson Ford, which celebrated its 50th Anniversary this month.
The Atchinson Dealership did not merely open-up shop in Belleville in 1961. It truly has grown to become a part of Belleville's distinctive character and, today, is a major contributor to why so many residents proudly call Belleville home.
This is Atchinson Country. There's no denying it.
The Atchinson name dominates our roads and our vehicles' plates. You would be hard pressed to find an area household who cannot name a friend or family member who is a satisfied Atchinson vehicle owner. And I stand proudly among them.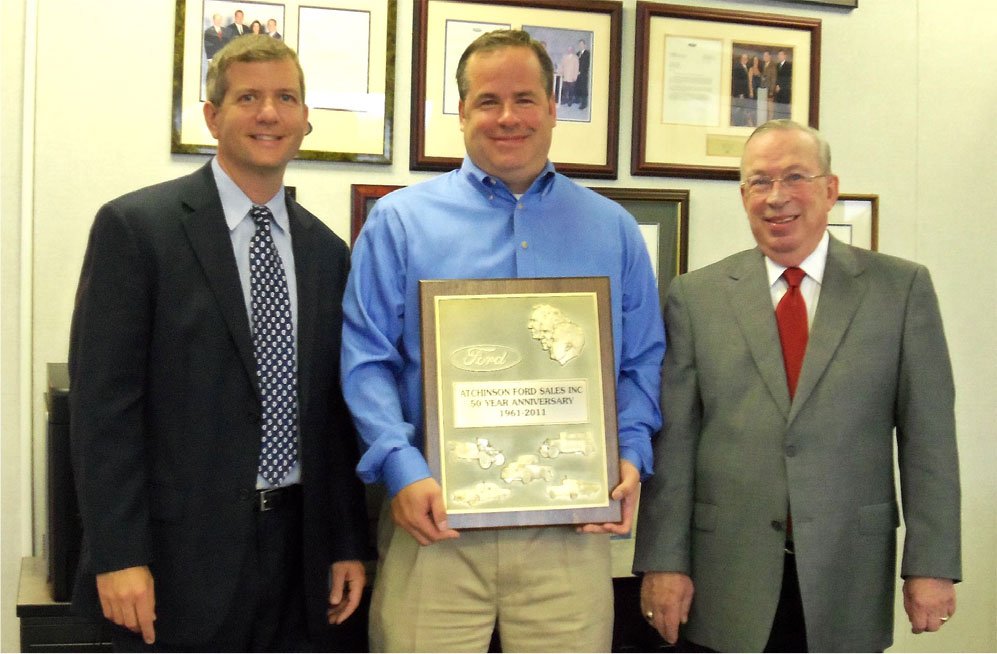 Mike O'Brien, Detroit regional sales manager, Ford Great Lakes Sales Division presents Atchinson Ford General Manager Craig Atchinson and President Kurt Atchinson with plaque to commemorate the milestone of Atchinson Ford's 50thAnniversary
Customer Service is certainly a part of the Atchinson's family hallmark, but it's not the only thing that family has become known for. To stand apart from the crowd, you have to focus on what it takes to be the best. Ford Atchinson Ford, one of Ford Motor Company's most celebrated dealers, being the best means standing-up for customers in the community.
Beginning with its founder Norman S. "Dutch" Atchinson and, now, Kurt and Craig, the Atchinson family has served on community boards and volunteer committees, and supported charitable endeavors, community and school events too numerous to mention.
Only 30 percent of family owned businesses survive the handoff to the second generation and only 10 percent make it to the third generation, according to Grant Thornton LLP.
We are proud that the Atchinson family is beating such formidable odds.
Perhaps a part of their success has to do with their commitment to future generations. The Atchinson's buy a significant percentage of their goods and services from area businesses, supporting the local economy. And not only do they employ local area residents, they retain high levels of employee satisfaction and tenure.
Atchinson Ford is a nameplate worth preserving. Congratulations on 50 years of successful operation!