We're Here For You
Atchinson Ford always puts customers first!
Don't take our word for it: Read our reviews and see what everyone is saying.
Ordered my new 2023 F150 back in Aug. took delivery in Dec . My salesman Matt Lemon was so knowledgeable made my experience very easy there Patrick, the new car sales manager was very helpful this dealership gained a customer for life
The staff at Atchinson were amazing to work with. The communication went above and beyond any dealership I have ever worked with. They were constantly responding to texts, phone calls or emails whenever needed. After traveling from out of town and transportation issues staff were able to meet me after hours. It was a terrific car buying experience
Thank you to Estill Martinez for a great car buying experience!
Estill was great to work with as usual! Have purchased from him 5 times.
Chris Rogers is a great salesman. Mr. Rogers did not pressure me into buying a vehicle. He was courtesy and very polite. The process went very fast. Mr. Rogers will be the first person I call for future purchases if needed.
Awesome I bought a brand new 2022 ford maverick at msrp!
It was a pleasure to work with the staff at Atchinson Ford (Patrick Leaman and Terry Scheuher) as they made the leasing experience so uncomplicated and worry-free. Thank you gentlemen.
My salesman chris rogers was awesome throughout my recent 2 new F150 purchases! I highly recommend him and atchinson ford!!
Jason Fuchs has taken care of me well through many purchases. Job well done!that's it
Very Professional Staff, No Pressure. Prices listed were among lowest for the features and condition of vehicles.
Great staff and Dealership! Made the transaction with no stress and fast!
Great experience, Dustin Shankle was a great salesman. Everyone was kind and made sure all our concerns were addressed prior to purchasing our vehicle. We didn't feel pressured to buy at all. It was a long wait dealing with Ford, but Dustin got ahold of us as soon as he had the vehicle we wanted (and didn't try to sell us something else like many other dealerships did!).
Mike Horvath is the man to see when buying a new car or truck hands down
Kudos to all the employees at Atchinson Ford. Especially Bob Gaffka.
Mike Cogley did an outstanding job selling the Ford Ecosport to our business. Quick and easy and kept the communication coming during the process.
I ordered my new Ford Mach E GT from Bob at Atchinson Ford. The transaction was easy and I was able to have it shipped to Florida without problems. Local dealers were getting $20,000 over sticker.
They had exactly the used car I needed, and at the right price. They provided helpful, honest advice on warranties and service, and that made me very comfortable with buying used.
Chris Rodgers made it an awesome first experience on purchasing my first car. Thank you so much! And also to Mike I wouldn't of gotten far without his help either (: Great team 👏
I wasn?t sure what I wanted so they let me take my time and after 4 different vehicle test drives I chose the F-150. Atchinson was awesome in every aspect of my purchase I couldn?t be happier! Highly recommend!
Very good.Very good sales staff. Good relationship with the sales staff. Enjoy the experience
This is a great place to go if you are looking for a great deal and friendly service. I bought a car here 3 years ago and absolutely loved it. a month ago the gentleman that sold me the car called me to see if I was still happy with it and if I would be interested in trading it in. I wasn't until I got there and drove a newer model of the car I had. They were very fair with the trade-in and I am very satisfied! Thanks Chris F. for not only remembering me, but also the make, model, and color I prefer in a car. Above and beyond excellent service.
My salesperson was efficient and honestly interested in having everything done right.
Teri Foresi is my salesperson and has taken me through my several purchases and this time and once again she did not disappoint. I have been Ford customer for over thirty years and recognise the standard of the blue oval.
Our salesman Bob Gaffka was amazing. He was so helpful from start to finish on our new vehicle, and we couldn't be happier with the excellent service. We have been through the repair center and Fastlane also. Everyone that works back there is absolutely amazing.
Very pleasant. I found a couple cars on line and Chris Rogers brought them up with no waiting. Was able to test drive. Would recommend Chris to anyone. He was very personable and efficient.
Take Advantage of This Month's Current Offers
Ford Blue Advantage: Confidence at Every Turn
Experience the benefits of Ford Blue Advantage! Each Ford Blue Advantage vehicle features a limited warranty, multi-point inspection, 24/7 roadside assistance, and FordPass™ Rewards Points.
Introducing the Ford Family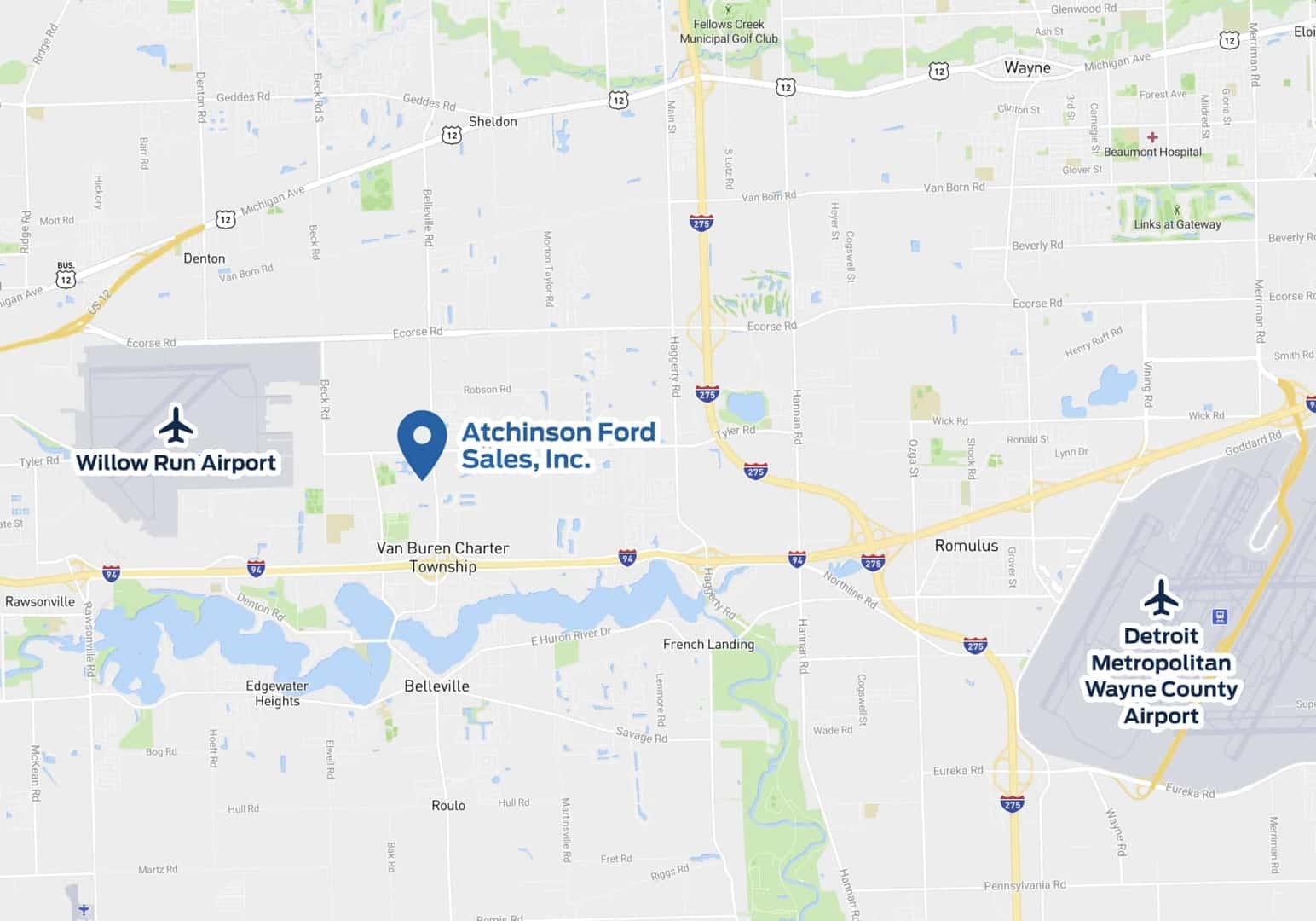 Get Directions To Our Dealership
Welcome to Atchinson Ford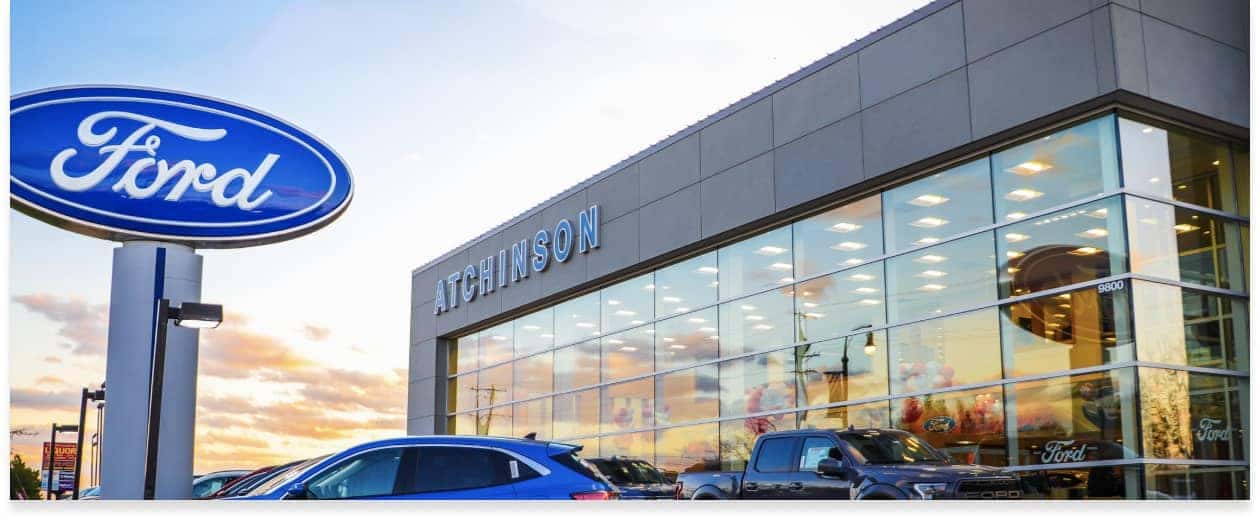 #1 Ford Dealer In Belleville!
Atchinson Ford is honored to serve car buyers looking for the perfect Ford dealership in Canton, MI! We offer new and used Ford vehicles and the best maintenance services in Michigan. Here are some of the most significant advantages of shopping with us and a closer look at our most impressive Ford inventory.
Neighborhood Canton Ford Dealership
Our Canton Ford dealership has deep community ties, and we are focused on helping the Canton, MI, area thrive! We've been a local Canton Ford dealership since 1961. Atchinson Ford has supported countless organizations, including the St. Anthony Men's Club, Belleville Area Women's Club, Canton High School, Belleville High School, and many more.
In addition to serving our community, we value providing our customers with incredible service anytime they visit. We are proud that our commitment to service has been honored with several awards over the years, including 14 President's Awards and 13 Partners in Quality Awards. Our Ford dealership in Canton, MI, takes care of Canton residents, and they take care of us. We believe our ties in Canton run stronger than the average Ford dealer in Michigan.
New & Used Ford Dealer in Michigan
When you shop at our Ford dealership in Canton, MI, you'll have your pick of the finest new inventory in the Canton area. On our lot, you'll find an extensive selection of trucks, including the Maverick. Our other fine Ford models include the Edge, Escape, and Bronco.
If you're in the market for a used car rather than a new one, look at our outstanding selection of various used makes and models. You can talk with one of our sales experts about your automotive needs, and they'll help you determine which of our models fits the bill. Take a look at some of the models on our website, and then visit our lot so you can see these vehicles in person and schedule a test drive.
Enjoy Easy Car Finance Approvals & Reliable Auto Service
Ready to purchase the Ford vehicle you always wanted to drive? Visit Atchinson Ford to speak with our talented and helpful finance department to find a loan or lease to help with your new Ford's monthly payments. Our dealership works with local banks to determine the best payment plan, so if you need a fresh start in credit, see us today to make it happen! Be sure to visit our Quick Lane® for a reliable and dedicated auto service experience in the greater Canton, MI, area.
The buying experience with Atchinson Ford has an excellent reputation, as seen in our reviews across many sites, but it just got better! If you are ready to purchase your next vehicle but want to take care of business on your own time, go directly to Atchinson's E-Store. The Atchinson Ford E-Store is where you can complete your purchase without stepping foot in the dealership. After you choose your vehicle, calculate the payment, set up your terms for your purchase, and click apply for financing! You won't find a Ford dealership in Canton, MI, to make the process any easier!
Shop With Confidence at Our Ford Dealership in Canton, MI
Are you finally ready to get behind the wheel of a top-notch Ford vehicle? If so, you need to see us at Atchinson Ford. Our inventory is filled with exceptional new Ford cars and trucks, as well as countless used cars. We would be glad to help you find a vehicle if you are in Canton, Belleville, Ann Arbor, Ypsilanti, and the Metro Detroit area.
For a secure and easy online car buying experience, use Atchinson Ford's E-Store to purchase your next Ford vehicle in three easy steps. Just download the FordPass app to purchase your vehicle from home and access any maintenance help in the palm of your hand. Our Ford dealership offers Ford AXZ Plans that allow Ford employees in the Canton, MI, area to help their loved ones save money on the Ford vehicles they deserve.
When it comes to Ford dealers in Michigan, nobody matches our level of care for our community and our employees. Whether you sell our cars or purchase them, you all have one thing in common — you're all members of our Atchinson Ford family, and we're proud to be the number one Ford dealership in Canton, MI.
Contact Us